Chapter four covers Guénon's biography from a series of disasters in 1927-28 that led to his emigration to Egypt in 1930 until the start of the Second World War.
It examines Guénon's life in Egypt and the nature of his Islam, and the impact of Egypt and Islam on Traditionalism.
As well as lying behind future developments in French Freemasonry, this impact resulted in the formation of two Traditionalist religious groups, one short-lived and Catholic (the Fraternity of the Cavaliers of the Divine Paraclete) and one long-lived and Islamic, a European branch of an Algerian Sufi order--the Alawiyya--under Frithjof Schuon, assisted by Titus Burckhardt (1908-84).
The chapter covers Schuon's biography and the history of his Alawiyya up to 1943.
Further reading
Suggested websites
Other resources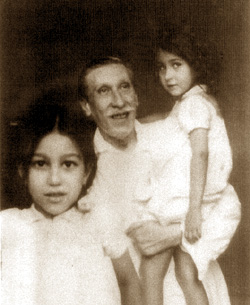 ............René Guénon with his ...........two eldest daughters in .........Cairo