Chapter thirteen considers Traditionalism in the contemporary Islamic world.
Traditionalist influence in the Arab world is similar to that in the West, but in Iran and Turkey Traditionalism occupies a far more important position in public discourse than is the case elsewhere.
The chapter ends with a consideration of the unusual and apparently paradoxical relationship between Traditionalism and radical Islamism in the Russian Federation , completing the biography of Gaydar Jamal, begun in the previous chapter.
Further reading
Suggested websites
Other resources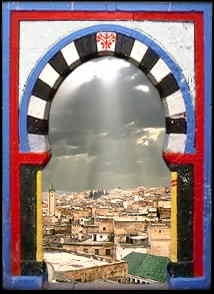 ...........From poster for Fez ..........Festival, 1999