Chapter three continues the early biography of René Guénon from 1909.
It covers his membership of the Universal Gnostic Church and his Masonic contacts with Oswald Wirth, and ending with the dissolution of the Belle Epoque occultist milieu during the First World War.
The chapter also examines the influence on Guénon of the ideas of the imperialist Albert de Pouvourville (1861-1940) and of the Sufi Ivan Aguéli (1869-1917), and the origins of de Pouvourville's and Aguéli's ideas.
It finally compares Aguéli with two other early Western Sufis , Isabelle Eberhardt (1877-1904) and Rudolf von Sebottendorf (1875-1945).
Further reading
Suggested websites
Aguélimuseet (Aguéli gallery in Sweden , mostly in Swedish but with good reproductions of paintings)
Other resources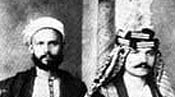 ...........Ivan Aguéli (left) with ..........Enrico Insabato